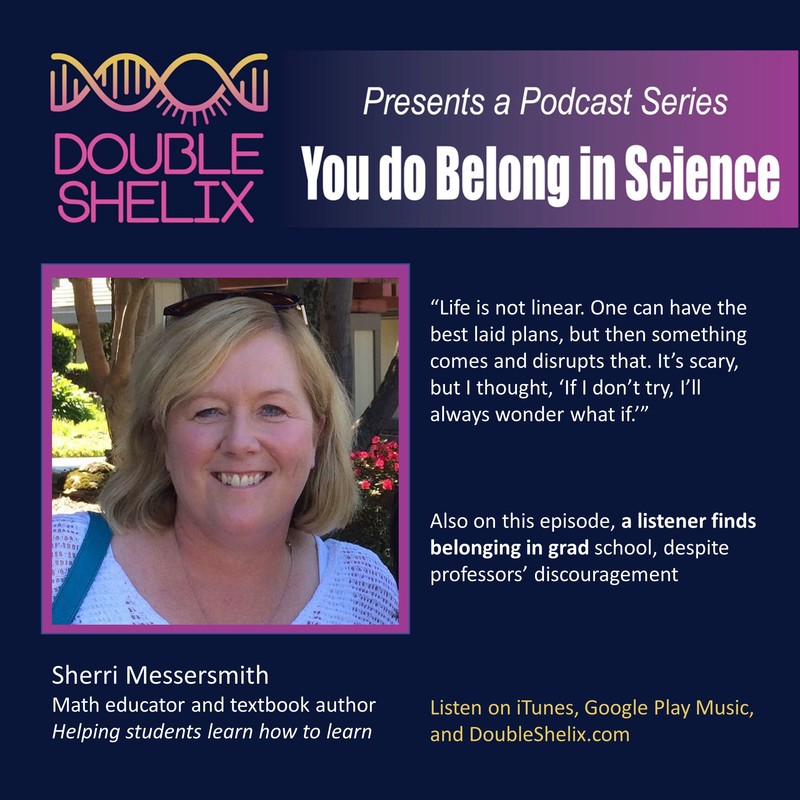 Many students arrive in college under-prepared for success, and professors have the responsibility– and opportunity — to help them gain skills to enable their success and find belonging in STEM. However, few professors are trained to help students develop these skills, so Double Shelix's guest, Sherri Messersmith, incorporates them into her series of developmental math textbooks! On this episode, Sherri shares her journey in math, from besting elementary school bullies on every math test, to high school math teacher, to college math professor, and now author of 15 college math textbooks. Kayla and Sally discuss with Sherri how staying true to your passions outside your main focus area — like writing, cooking, and travel, for Sherri — can make you better at your job, and even open the door to new opportunities — like textbook authorship! Sherri tells Sally and Kayla what departments can do to engage with students in introductory courses and how to build students' confidence in difficult material. As Sherri says, life is not linear, so follow your passions, work hard, and be ready if fortune strikes with an amazing opportunity! Sherri is an experienced educator and speaker on the topic of enabling student success, and Double Shelix was honored to have her.
Also on this episode, Sally and Kayla hear from a listener who was told by professors that they didn't belong in their grad program because they went to a small liberal arts college, not a big research institution — what?! We discuss how students take these kinds of comments from faculty really harshly, and how faculty can do better. Also, the importance of peer support in making it through trying times when you're singled out or are the "only one."
Resources:
*Road Trip Nation, the book that inspired Sherri's career leap to textbook authorship: www.roadtripnation.com
*Sherri's textbooks: https://amzn.to/2JRcHct
*Follow Sally and Kayla on Twitter @sallywinkler and @Kayla_J_Wolf
*Follow DS on Twitter @doubleshelixpod
Upcoming #YouDoBelongInScience episodes will feature your stories! Fill out this form or call Double Shelix's voicemail, 415-895-0850, to share your story of (dis)belonging in STEM. Sally and Kayla are hoping to share a diverse set of experiences from our listeners, but they need your help to make that happen!
Podcast: Play in new window | Download