Pain Relief Using Spearmint Aromatherapy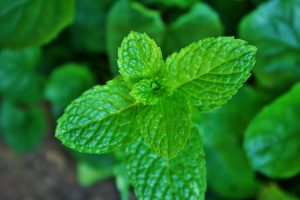 Pain is the body's way of telling you there's something wrong. For most of us, the pain goes away after the body fixes itself. However, more than 10% of Americans suffer from chronic pain after the healing period. Many chronic pain patients need drugs to reduce their symptoms.  Given the pervasive use of opioid drugs to treat chronic pain, opioid addiction is common among chronic pain patients.
However, a remarkably clever and elegant cellular engineering technology may provide a new approach for treating chronic pain. Martin Fussenegger, Ph.D., a professor in the Department of Biosystems Science and Bioengineering at the Swiss Federal Institute of Technology, is the lead author of a new study published in Nature Biomedical Engineering combining cellular and genetic engineering to alleviate pain using cells as factories to produce spearmint. The strategy employed by the authors used engineered human cells to express huwentoxin IV, a blocker of sodium channels regulating pain signals in neurons, upon exposure to carvone, a terpenoid found in spearmint.
Testing their concept in a mouse model of pain, the authors found that mice exposed to spearmint both orally and via aromatherapy showed fewer signs of pain. Looking forward, Dr. Fussenegger and his colleagues believe that their technology, called AromaCell, should be tested next in human cell lines to alleviate concerns about immunological responses to the cells when implanted into patients.
Press Button to Bleed
Another recent article in Nature Biomedical Engineering details the work of the Boston-area biotech firm Seventh Sense Biosystems on their push-button blood collection device, called TAP. As we have discussed here before, currently used blood-drawing procedures are often uncomfortable to patients because of the sharp needle prick used to collect blood. TAP was designed to collect 100 microliters of whole blood using a device the size of a stethoscope bell in a "virtually painless" manner.
The scientists from Seventh Sense designed the patch using microneedle technology. With this approach, they designed TAP with multiple microneedles deployed at high velocity to collect blood from capillaries — the tiniest vessels that connect veins and arteries and that lie closest to the surface of the skin — rather than from a vein tied off with a tourniquet. Testing the device in 144 volunteers, the study authors found that the device was as accurate as current methods for obtaining blood to measure hemoglobin (important for diabetics) and was significantly less painful.
Seventh Sense predicts this disposable device will cost only $5 per use, but this is still almost double the materials cost for standard blood draws. However, the company believes that the pain-free nature of and time saved with TAP will offset the higher cost of the device.
Advances in Global Health
The positively epidemic nature of human papilloma virus (HPV), affecting nearly one quarter of all Americans, has drawn particular attention over the last decade or so. The clear association between HPV and cervical cancer (as well as head and neck cancers) has led to the development and deployment of vaccines (controversial due to the sexually transmitted nature of HPV) and to increased calls for more regular and accurate screening. In developing nations, implementing either effective vaccination or early screening programs remains an uphill struggle.
Responding to the need for more accessible screening technologies, Jessica Ramella-Roman, Ph.D., Associate Professor of Biomedical Engineering at Florida International University (FIU), and Purnima Madhivanan, Ph.D., an epidemiology professor at FIU, traveled to Mysore, India, to install a device developed by Dr. Ramella-Roman at the Public Health Research Institute of India. The device is a hand-held imaging tool that uses a technology called Mueller matrix imaging to provide high-resolution digital images of the cervix in about 5 seconds. The resolution of the images eliminates the need to use dyes or stains to detect malignant cells. The testing of the device is currently ongoing.
Elsewhere in global health, researchers at Google have teamed with medical faculty from Stanford to produce a machine learning algorithm that could examine the human retina and determine whether the person in question is at risk for cardiovascular disease. They report their findings in Nature Biomedical Engineering.
The technology is not ready for actual patients yet — the study authors concede that the algorithm does not outperform the currently available technologies. However, if improved with additional research and testing, the algorithm could be deployed virtually anywhere, including in patients' homes.
People and Places
Yale University has launched a new Center for Biomedical Data Science, dedicated to collecting, studying, and managing big data. The interim directors are Mark Gerstein, Ph.D., Albert L Williams Professor of Biomedical Informatics, Molecular Biophysics, and Biochemistry, and Hongyu Zhao, Ph.D., Ira V. Hiscock Professor of Biostatistics and Professor of Genetics and Professor of Statistics and Data Science.
The University of Virginia has announced a partnership with Smithfield Bioscience, a subsidiary of Smithfield Foods, Inc. The goal of the partnership is to advance a variety of tissue engineering applications using tissue samples from pigs. George J. Christ, Ph.D., Professor of Biomedical Engineering and Orthopaedic Surgery, heads UVA's $3 million Center for Advanced Biomanufacturing, which is involved in the partnership.
Finally, we offer our congratulations to Guoqiang Yu, Ph.D., Professor of Biomedical Engineering at the University of Kentucky and a former research faculty member in physics here at Penn, for being awarded a two-year $420,000 R21 research grant from the NIH's Eunice Kennedy Shriver National Institute of Child Health and Human Development. Dr. Yu will use the money to develop a device to measure cerebral hemodynamics in neonatal ICU patients.