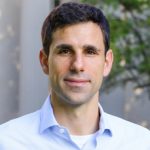 César de la Fuente, Presidential Assistant Professor in Psychiatry, Bioengineering, Microbiology, and in Chemical and Biomolecular Engineering has been honored with a 2022 Young Investigator Award by the Royal Spanish Society of Chemistry (RSEQ) for his pioneering research efforts to combine the power of machines and biology to help prevent, detect, and treat infectious diseases.
Read the RSEQ's announcement here.
This story originally appeared in Penn Medicine News's Awards & Accolades post for April 2022.