by Devorah Fischler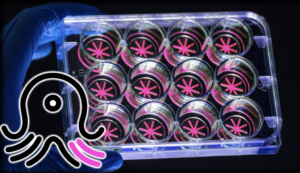 When it comes to human bodies, there is no such thing as typical. Variation is the rule. In recent years, the biological sciences have increased their focus on exploring the poignant lack of norms between individuals, and medical and pharmaceutical researchers are asking questions about translating insights concerning biological variation into more precise and compassionate care.
What if therapies could be tailored to each patient? What would happen if we could predict an individual body's response to a drug before trial-and-error treatment? Is it possible to understand the way a person's disease begins and develops so we can know exactly how to cure it?
Dan Huh, Associate Professor in the Department of Bioengineering at the University of Pennsylvania's School of Engineering and Applied Science, seeks answers to these questions by replicating biological systems outside of the body. These external copies of internal systems promise to boost drug efficacy while providing new levels of knowledge about patient health.
An innovator of organ-on-a-chip technology, or miniature copies of bodily systems stored in plastic devices no larger than a thumb drive, Huh has broadened his attention to engineering mini-organs in a dish using a patient's own cells.
A recent study published in Nature Methods helmed by Huh introduces OCTOPUS, a device that nurtures organs-in-a-dish to unmatched levels of maturity. The study leaders include Estelle Park, doctoral student in Bioengineering, Tatiana Karakasheva, Associate Director of the Gastrointestinal Epithelium Modeling Program at Children's Hospital of Philadelphia (CHOP), and Kathryn Hamilton, Assistant Professor of Pediatrics in Penn's Perelman School of Medicine and Co-Director of the Gastrointestinal Epithelial Modeling Program at CHOP.
Read the full story in Penn Engineering Today.