Among the myriad medical complications caused by diabetes, pressure sores of the feet are among the most troubling. Because of the common  complication of peripheral neuropathy, people with diabetes are often unable to determine how much pressure is being exerted on their feet. As a result, they cause foot ulcers, which can become infected, leading in the worst cases to amputation.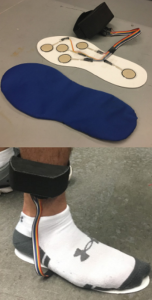 One of the senior design teams from the Department of Bioengineering at the University of Pennsylvania developed a project to address this problem. Their solution was Flysole (right), a prognostic implant that diabetic patients can wear to collect data on foot pressure so that the doctor can prescribe an optimal orthotic to prevent sores from developing. The team was named one of the three winners of this year's competition.
The team, which consisted of Parag Bapna, Karthik Ramesh, Jane Shmushkis, and Amey Vrudhula, designed the Flysole as a lightweight insole with ankle band paired with software that generates a profile of the pressure on the sole of the patient's foot. The insole has five sensors to collect these data. The cost is approximately $75 per pair.
In addition, the team made the Flysole to be reusable by including a polyurethane laminate sleeve for the individual patient. Future improvements envisioned by the students include improving the software to include recommendations for orthotics and alternate arrangements for the sole sensors.