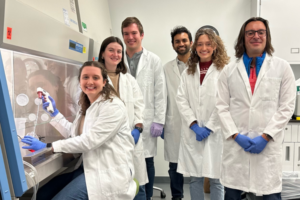 New research on reproductive health demonstrates the first successful delivery of mRNA to placental cells to treat pre-eclampsia at its root.
Pre-eclampsia is a leading cause of stillbirths and prematurity worldwide, occurring in 3 – 8 % of pregnancies. A disorder characterized by high maternal blood pressure, it results from insufficient vasodilation in the placenta, restricting blood flow from the mother to the fetus.
Currently, a health-care plan for someone with pre-eclampsia involves diet and movement changes, frequent monitoring, blood pressure management, and sometimes early delivery of the baby. These standards of care address symptoms of the condition, not the root cause, and further perpetuate health inequity.
Now, Penn engineers are addressing this longstanding gap in reproductive health care with targeted RNA therapy.
The COVID vaccines demonstrated how lipid nanoparticles (LNPs) efficiently deliver mRNA to target cells. The success of LNPs is opening doors for a variety of RNA therapies aiming to treat the root causes of illness and disease. However, drug development and health care have consistently neglected a portion of the population in need of targeted care the most – pregnant people and their babies.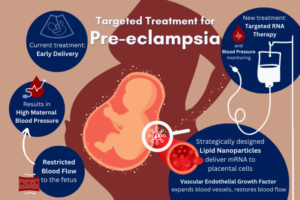 In one of the first studies of its kind, published in the Journal of the American Chemical Society, Michael Mitchell, J. Peter and Geri Skirkanich Assistant Professor of Innovation in Bioengineering, and Kelsey Swingle, Ph.D. student in the Mitchell Lab and lead author, describe their development of an LNP with the ability to target and deliver mRNA to trophoblasts, endothelial cells, and immune cells in the placenta.
Once these cells receive the mRNA, they create vascular endothelial growth factor (VEGF), a protein that helps expand the blood vessels in the placenta to reduce the mother's blood pressure and restore adequate circulation to the fetus. The researchers' successful trials in mice may lead to promising treatments for pre-eclampsia in humans.
Read the full story in Penn Engineering Today.