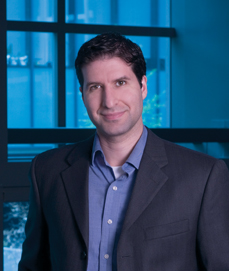 Andrew Tsourkas, Ph.D., who is an associate professor in the Department of Bioengineering, cofounded PolyAurum LLC, a company using gold particles to develop technologies to improve cancer therapies, in 2015. Dr. Tsourkas founded the company with two faculty members from the Perelman School of Medicine: Jay Dorsey, M.D., Ph.D., and Dave Cormode, Ph.D., the latter of whom is also a secondary factory member in BE. The name PolyAurum combines the word polymer with aurum, the Latin word for "gold." Gold has been found to be able to enhance the effects of radiation therapy in cancer without damaging healthy tissue.
Dr. Tsourkas's work with his colleagues at PolyAurum was featured recently in the The Philadelphia Inquirer. Debra Travers, the CEO of PolyAurum and herself a cancer survivor, was interviewed by the newspaper for its business section.
According to the article, Drs. Tsourkas and Cormode
have worked to make gold more biocompatible, resulting in PolyAurum's current technology, Dorsey said. The gold nanocrystals are contained in a biodegradable polymer that allows enough metal to collect in a tumor. The polymer then breaks down, releasing the gold for excretion from the body so that it does not build up in key organs.
Read more at the Inquirer Web site.