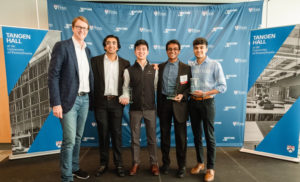 Penn's Venture Lab Startup Challenge awarded its 2022 prize to a sustainable and cost-effective water-testing startup. The venture, ToxiSense, was awarded at a ceremony on April 29, at Tangen Hall, Penn's hub for student entrepreneurship and innovation.
Co-founded by four first-year students—Aravind Krishnan, Udit Garg, Andrew Diep-Tran, and Aarush Sahni—ToxiSense aims to improve the endotoxin testing required for drinking water and biopharma products through genetically engineering plants with bioluminescent properties. Biopharmaceutical products and drinking water must be tested for endotoxins, the sickness-causing molecule from bacteria. The current method relies on expensive horseshoe crab blood and is environmentally damaging. ToxiSense genetically engineered the Arabidopsis plant to luminesce based on the endotoxin concentration applied to it, serving as a sustainable, cost-effective solution.
ToxiSense was selected from a field of eight finalist teams—including DeToXyFi, Groov, Impact Local, Miren, Nemu, Ossum Technologies, and Shinkei Systems Corp.—who advanced from 30 ventures during the semi-finals portion of the competition, which consisted of a day of virtual pitching and Q&A in front of alumni entrepreneur and investor panels. For the finals, teams pitched to a panel of alumni judges and in front of a live audience of nearly 200 attendees as they competed for over $150,000 in cash and prizes to launch their startups.
"The Startup Challenge is Venture Lab's premier yearly event, showcasing Penn's most promising teams of student entrepreneurs," says Lori Rosenkopf, vice dean of entrepreneurship and Simon and Midge Palley Professor at the Wharton School. "This year's finalists included undergraduate and graduate students from across the University, and their products offered solutions for environmental, financial, health, and social challenges. These motivated teams capture the spirit of Penn entrepreneurship—innovative, interdisciplinary, inclusive—and we offer our congratulations and our optimistic wishes for their futures."
Read more at The Wharton School.
Udit Garg (Class of 2025) is a rising second year student in Bioengineering.
Some work for this project was done in the George H. Stephenson Foundation Educational Laboratory & Bio-MakerSpace, the primary teaching lab for the Department of Bioengineering.
Ossum Technologies includes Ananya Dewan, Hoang Le, Shiva Teerdhala, all students in the Vagelos Life Sciences and Management Program, Bioengineering major Karan Shah and Savan Patel, a student in the Jerome Fisher Program for Management & Technology.