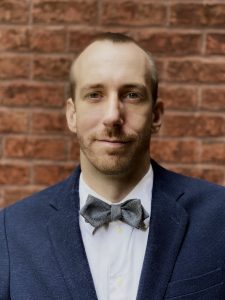 Peter Huwe, a University of Pennsylvania alumnus and graduate of the Radhakrishnan lab, was appointed Assistant Professor of Biomedical Sciences at the Mercer University School of Medicine beginning this summer 2020 semester.
Huwe earned dual B.S. degrees in Biology and Chemistry in 2009 from Mississippi College, where he was inducted into the Hall of Fame. At Mississippi College, Huwe had his first exposure to computational research in the laboratory of David Magers, Professor of Chemistry and Biochemistry. He went on to earn his Ph.D. in Biochemistry and Molecular Biophysics in 2014 in the laboratory of Ravi Radhakrishnan, Chair of the Bioengineering Department at Penn. As an NSF Graduate Research Fellow in Radhakrishnan's lab, Huwe focused his research on using computational molecular modeling and simulations to elucidate the functional consequences of protein mutations associated with human diseases. Dr. Huwe then joined the structural bioinformatics laboratory Roland Dunbrack, Jr., Professor at the Fox Chase Cancer Center as a T32 post-doctoral trainee. During his post-doctoral training, Huwe held adjunct teaching appointments at Thomas Jefferson University and at the University of Pennsylvania. In 2017, Huwe became an Assistant Professor of Biology at Temple University, where he taught medical biochemistry, medical genetics, cancer biology, and several other subjects.
During each of his appointments, Huwe became increasingly more passionate about teaching, and he decided to dedicate his career to medical education. Huwe is very excited to be joining Mercer University School of Medicine as an Assistant Professor of Biomedical Sciences this summer. There, he will serve in a medical educator track, primarily teaching first and second year medical students.
"Without Ravi Radhakrishnan and Philip Rea, Professor of Biology in Penn's School of Arts & Sciences, giving me my first teaching opportunities as a graduate guest lecturer at Penn, I may never have discovered how much I love teaching," says Huwe. "And without the support and guidance of each of my P.I.'s [Dr.'s Magers, Radhakrishnan, and Dunbrack], I certainly would not be where I am, doing what I love.  I am incredibly thankful for all of the people who helped me in my journey to find my dream job."
Congratulations and best of luck from everyone in Penn Bioengineering, Dr. Huwe!