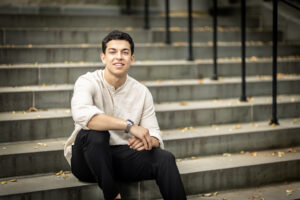 Ongoing clinical trials have demonstrated that psychedelics like psilocybin and LSD can have rapid and long-lived antidepressant and anti-anxiety effects. A related clinical problem is chronic pain, which is notoriously difficult to treat and often associated with depression and anxiety.
This summer, Ahmad Hammo, a rising third-year student in bioengineering in the School of Engineering and Applied Science, is conducting a pilot study to explore psilocybin's potential as a therapy for chronic pain and the depression that often accompanies it.
"There's a strong correlation between chronic pain and depression, so I'm looking at how a psychedelic might be used for treating both of these things simultaneously," says Hammo, who is originally from Amman, Jordan.
Hammo is working under the guidance of neuroanesthesiologist and neuroscientist Joseph Cichon, an assistant professor in the Perelman School of Medicine. The effort is supported by the Penn Undergraduate Research Mentoring (PURM) program, administered by the Center for Undergraduate Research and Fellowships, which awards undergraduate students $5,000 to spend 10 weeks conducting research alongside Penn faculty.
Hammo's project focuses on neuropathic pain, pain associated with nerve damage. Like other forms of chronic pain, most experts believe that chronic neuropathic pain is stored in the brain.
"Neuropathic pain can lead to a centralized pain syndrome where the pain is still being processed in the brain," Cichon says. "It's as if there's a loop that keeps playing over and over again, and this chronic form is completely divorced from that initial injury."
Read the full story in Penn Today.