by Ebonee Johnson
The retiring CIS professor chats about his recent ACM SIGGRAPH election and his expansive computer graphics path.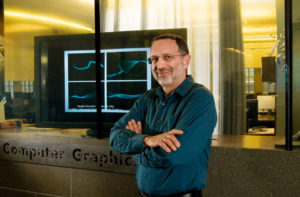 Norman Badler's election into the 2021 ACM SIGGRAPH Academy Class is right on time. After nearly five decades of teaching and trailblazing in the Penn community, the Rachleff Family Professor in the Department of Computer and Information Sciences retired at the end of the spring semester.
When he arrived at the University in 1974, CIS itself was only about 2 years old, and there was virtually no computer graphics focus or program at all. Badler had no intention to teach it.
"At that time, I was actually a computer vision researcher, but I was also working a little bit in natural language," says Badler. "So I was literally brought in to fit between the chair, Aravind Joshi, who was a natural language person, and the computer vision person. It wasn't until about three or four years after I came here that I switched over to computer graphics. Mostly because there was a vacuum and a need and an excitement."
Several years after completing his dissertation in computer vision and forming a career path to head in that direction, Badler "started getting serious about computer graphics." An organization that was getting its start around the same time as his Penn career would play a major role: ACM SIGGRAPH (the Association for Computing Machinery's Special Interest Group on Computer Graphics and Interactive Techniques).
Read the full story in the CIS Blog.
N.B.: Badler was a member of the Penn Bioengineering Graduate Group.