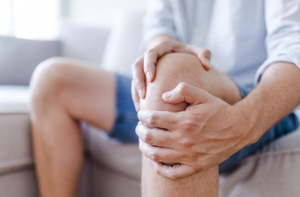 A recent study published in Science Translational Medicine announces a discovery which could halt cartilage degeneration caused by osteoarthritis: "These researchers showed that they could target a specific protein pathway in mice, put it into overdrive and halt cartilage degeneration over time. Building on that finding, they were able to show that treating mice with surgery-induced knee cartilage degeneration through the same pathway via the state of the art of nanomedicine could dramatically reduce the cartilage degeneration and knee pain." This development could eventually lead to treating osteoarthritis with injection rather than more complicated surgery.
Among a team of Penn Engineering and Penn Medicine researchers, the study was co-written by Zhiliang Cheng, Research Associate Professor in Bioengineering, Andrew Tsourkas, Professor in Bioengineering, and Ling Qin, Associate Professor of Orthopaedic Surgery in the Perelman School of Medicine and member of the Bioengineering Graduate Group. The lead author was Yulong Wei of the Department of Orthopaedic Surgery and the McKay Orthopaedic Research Laboratory.
Read the press release in Penn Medicine News.