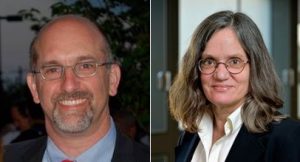 As researchers hunt for a solution to the coronavirus outbreak, Daniel A. Hammer, Alfred G. and Meta A. Ennis Professor in Bioengineering and in Chemical and Biomolecular Engineering (CBE), is bringing lessons from the fight for a vaccine to the classroom.
Hammer will offer a course on COVID-19 and the coronavirus pandemic during Penn's Summer II session, which will be held online this year. The course will be co-taught with Miriam Wattenbarger, senior lecturer in CBE.
The course, "Biotechnology, Immunology, and COVID-19," will culminate with a case study of the coronavirus pandemic including the types of drugs proposed and their mechanism of action, as well as the process of vaccine development.
"Obviously, the pandemic has been a life-altering event, causing an immense dislocation for everyone in our community, especially the students. Between me and Miriam, who has been trumpeting the importance of vaccines for some time in her graduate-level CBE courses, we have the expertise to inform students about this disease and how we might combat it," says Hammer.
For more than ten years, Wattenbarger has run courses and labs focused on drug delivery and biotechnology, key elements of the vaccine development process.
"I invite both researchers and industry speakers to meet with my students," Wattenbarger says, "so that they learn the crucial role engineers play in both vaccine development and manufacturing."
Beyond studying the interactions between the immune system and viruses — including HIV, influenza, adenovirus and coronavirus — students will cover a variety of biotechnological techniques relevant to tracking and defending against them, including recombinant DNA technology, polymerase chain reaction, DNA sequencing, gene therapy, CRISPR-Cas9 editing, drug discovery, small molecule inhibitors, vaccines and the clinical trial process.
Students will also learn the mathematical principles used to quantify biomolecular interactions, as well as those found behind simple epidemiological models and methods for making and purifying drugs and vaccines.
"We all have to contribute in the ways that we can. Having taught biotechnology to freshmen for the past decade, this is something that I can do that can both inform and build community," says Hammer. "Never has it been more important to have an informed and scientifically literate community that can fight this or any future pandemic."
Originally posted on the Penn Engineering blog. Media contact Evan Lerner. For more on BE's COVID-19 projects, read our recent blog post.