by Ebonee Johnson
Each year, Penn Engineering's seniors present their Senior Design projects, a year-long effort that challenges them to test and develop solutions to real-world problems, to their individual departments. The top three projects from each department go on to compete in the annual Senior Design Competition, sponsored by the Engineering Alumni Society, which involves pitching projects to a panel of judges who evaluate their potential in the market.
This year's panel included 42 judges, 21 in-person and 21 online, who weighed in on 18 projects. Each winning team received a $2,000 prize, generously sponsored by Penn Engineering alumnus Kerry Wisnosky.
This year, Bioengineering teams won two of the four interdepartmental awards.
Technology & Innovation Award
This award recognized the team whose project represents the highest and best use of technology and innovation to leverage engineering principles.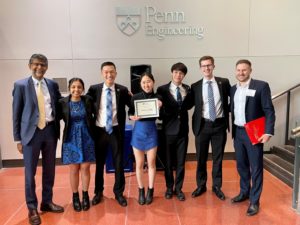 Winner: Team Modulo Prosthetics
Department: Bioengineering
Team Members: Alisha Agarwal, Michelle Kwon, Gary Lin, Ian Ong, Zachary Spalding
Mentor: Michael Hast
Instructors: Sevile Mannickarottu, David Meaney, Michael Siedlik
Abstract: Modulo Prosthetic is an adjustable, low-cost, thumb prosthetic with integrated haptic feedback that attaches to the metacarpophalangeal (MCP) joint of partial hand amputees and assists in activities of daily living (ADLs).

Leadership Award
This award recognizes the team which most professionally and persuasively presents their group project to incorporate a full analysis of their project's scope, advantages and challenges, as well as addresses the research's future potential and prospects for commercialization.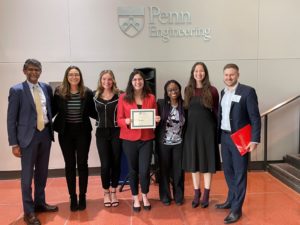 Winner: Team ReiniSpec
Department: Bioengineering
Team Members: Caitlin Frazee, Caroline Kavanagh, Ifeoluwa Popoola, Alexa Rybicki, Michelle White
Mentor: JeongInn Park
Instructors: Sevile Mannickarottu, David Meaney, Michael Siedlik
Abstract: ReiniSpec is a redesigned speculum to improve the gynecological exam experience, increasing patient comfort with a silicone shell and using motorized arm adjustments to make it easily adjustable for each patient, while also incorporating a camera, lights, and machine learning to aid in better diagnosis by gynecologists.

Read the full list of competition winners in Penn Engineering Today.
 The 2022 Senior Design Competition Committee was chaired by Lyle Brunhofer, Penn Engineering Alumni Society Board Member and alumnus of Penn Bioengineering (BSE 2014, Master's 2015).
Work for these and all Bioengineering senior design projects was conducted in the George H. Stephenson Foundation Educational Laboratory & Bio-MakerSpace, the primary teaching lab for the Department of Bioengineering. Learn more about all eleven 2022 senior design projects in Bioengineering here.