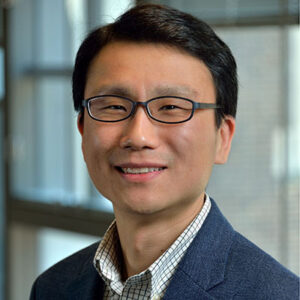 Daeyeon Lee, Professor and Evan C Thompson Term Chair for Excellence in Teaching in the Department of Chemical and Biomolecular Engineering and member of the Penn Bioengineering Graduate Group, is the recipient of two recent honors.
Surrounded by his supportive research team, fellow faculty, students, School of Engineering and Applied Science Dean Vijay Kumar, and Interim Provost Beth Winkelstein, Lee recently delivered the 2023 Evan C Thompson Chair Lecture about—fittingly enough—establishing a sense of community as we return from the isolating days of the pandemic.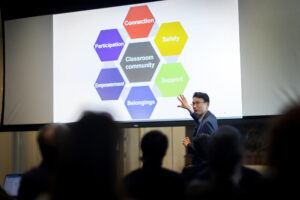 "Students who feel connected with instructors and among peers will invest more time, work harder, and retain information better, because they feel comfortable and safe being in the classroom and making space," Lee said in his opening remarks. "So, there are clearly lots of positive benefits to having this connectedness among students in the classroom."
Lee's lecture, titled "(Re)connecting in the Classroom," was inspired by the "Great Disengagement" referenced in an article published in The Chronicle of Higher Education last year. It portrayed students as more disconnected and uncertain as they re-entered the campus environment.
Read more about Lee's "(Re)connecting in the Classroom" in Penn Today.
In addition, Lee has received the 2022 Outstanding Achievement Award in Nanoscience from the American Chemical Society (ACS).
The annual award recognizes exceptional achievements in nanoscience research and notable leadership in the area of colloidal nanoparticles and application. Lee was chosen from a large group of extraordinary nominees among the invited speakers, "for pioneering research in development of factory-on-a-chip and its application for large scale nanoparticle synthesis and functionalization."
Read more about this award in Penn Engineering Today.