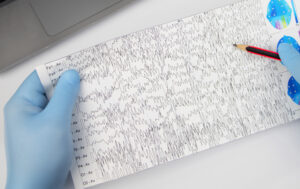 When Brian Litt of the Perelman School of Medicine and School of Engineering and Applied Science began treating patients as a neurologist, he found that the therapies and treatments for epilepsy were mostly reliant on traditional pharmacological interventions, which had limited success in changing the course of the disease.
People with epilepsy are often prescribed anti-seizure medications, and, while they are effective for many, about 30% of patients still continue to experience seizures. Litt sought new ways to offer patients better treatment options by investigating a class of devices that electronically stimulate cells in the brain to modulate activity known as neurostimulation devices.
Litt's research on implantable neurostimulation devices has led to significant breakthroughs in the technology and has broadened scientists' understanding of the brain. This work started not long after he came to Penn in 2002 with licensing algorithms to help drive a groundbreaking device by NeuroPace, the first closed-loop, responsive neurostimulator to treat epilepsy.
Building on this work, Litt noted in 2011 how the implantable neurostimulation devices being used at the time had rigid wires that didn't conform to the brain's surface, and he received support from CURE Epilepsy to accelerate the development of newer, flexible wires to monitor and stimulate the brain.
"CURE is one of the epilepsy community's most influential funding organizations," Litt says. "Their support for my lab has been incredibly helpful in enabling the cutting-edge research that we hope will change epilepsy care for our patients."
Read the full story in Penn Today.
Brian Litt is a Professor in Bioengineering and Neurology.
Flavia Vitale is an Assistant Professor in Neurology with a secondary appointment in Bioengineering.
Jonathan Viventi is an Assistant Professor in Biomedical Engineering at Duke University.