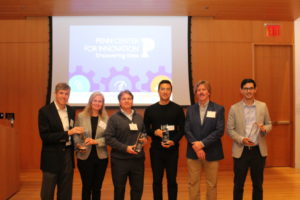 Two Penn Bioengineering Professors have received awards in the 7th Annual Celebration of Innovation from the Penn Center for Innovation (PCI).
Dongeun (Dan) Huh, Associate Professor in the Department of Bioengineering, was named the 2022 Inventor of the Year. D. Kacy Cullen, Associate Professor of Neurosurgery with a secondary appointment in Bioengineering, accepted the Deal of the Year Award on behalf of his company Innervace along with Co-Scientific Founder Douglas H. Smith, Robert A. Groff Professor of Teaching and Research in Neurosurgery in the Perelman School of Medicine.
PCI is interdisciplinary center for technology commercialization and startups in the Penn community. Their 7th Annual Celebration, held on December 6, 2022 at the Singh Center for Nanotechnology, honored Penn researchers and inventors whose achievements were a particular highlight of the fiscal year.
Huh was honored in recognition of his "extraordinary innovations in bioengineering tools." The Huh Biologically Inspired Engineering Systems Laboratory (BIOLines) Laboratory is a leader in tissue engineering and cell-based smart biomedical devices, particularly in the "lab-on-a-chip" field of devices which can approximate the functioning of organs. Their research has been featured by the National Science Foundation (NSF, video below) and Wired, and has received a competitive Chan Zuckerberg Initiative (CZI) grant. Most recently, their "implantation-on-a-chip" technology has been used to better understand early-stage pregnancy. Huh and former lab member Andrei Georgescu (Ph.D. in Bioengineering, 2021) founded the spinoff company Vivodyne to bring this organ-on-a-chip technology to the industry sector. Fast Company included Vivodyne in a list of "most innovative" companies.
Innervace, represented by Cullen and Smith, took home the Deal of the Year award in recognition of its "successful Series A funding." Innervace is another Penn spinoff which develops "anatomically inspired living scaffolds for brain pathway reconstruction." Innervace raised up to $40 million in Series A financing to "accelerate a new cell therapy modality for the treatment of neurological disorders." The Cullen Lab at Penn Medicine combines neuroengineering, regenerative medicine, and the study of neurotrauma to improve understanding of neural injury and develop cutting-edge neural tissue engineering-based treatments to promote regeneration and restore function.
Read the full list of 2022 PCI Award winners here.

Read more stories featuring Dan Huh and D. Kacy Cullen.