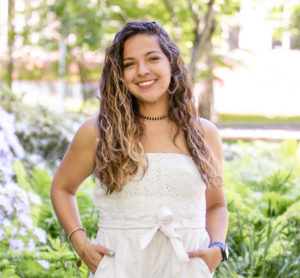 Sofia Gonzalez, who graduated with both bachelor's and master's degrees in Bioengineering this spring, was one of a select number of Penn students to receive 2021 Student Leadership Awards. Gonzalez was awarded a Penn Alumni Student Award of Merit as well as the William A. Levi Kite & Key Society Award for Service and Scholarship. Awardees were celebrated during the university's annual Ivy Day, "a tradition recognizing students' leadership, service, and scholarship for nearly 150 years."
Gonzalez discussed the importance of diverse representation in the Student Leadership Awards Book:
"Sofia reflected that on countless college tours, she noticed a striking pattern: only one of the ambassadors she encountered was a female engineer, and none of them were Latinx. While the nation was reckoning with racism, Sofia was leading critical discussions about how Kite & Key could improve in areas of diversity, equity, and inclusion to mirror the Penn student body. Sofia is now graduating, confident that she took measurable strides toward breaking the cycle of underrepresentation at America's first University. Sofia's work leaves a lasting legacy at Penn and beyond."
Gonzalez also served as a Senior Advisor to the Biomedical Engineering Society (BMES) and as President of the Kite and Key Society, a society which welcomes all visitors to campus, acquaints prospective students and families with the undergraduate experience, and fosters a community of students dedicated to serving the University of Pennsylvania. Having completed her degrees, Gonzalez is headed for the first year of a rotational program as a member of the Merck Manufacturing Leadership Development Program in Durham, NC.
Following her time at Merck, Gonzalez will continue her education at the MIT Sloan School of Management. Gaining admission to the M.B.A. program via the Early Admission offering, she will matriculate within the following five years.
Read the full list of 2021 award winners and learn more about the awards on the Ivy Day website.