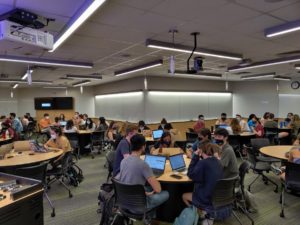 After a year of hybrid learning, Penn Bioengineering (BE) seniors were excited to return to the George H. Stephenson Foundation Educational Laboratory & Bio-MakerSpace for Senior Design (BE 495 & 496), a two-semester course in which students work in teams to conceive, design and pitch their capstone projects in bioengineering. This year's projects include tools for monitoring health, software to improve communication for the healthcare and supply chain industries, and devices to improve patient care for women and underrepresented minorities.
The year culminated in the annual Senior Design Expo on April 13 in the Singh Center for Nanotechnology, in which the students presented their pitches to a panel of alumni judges, followed by demonstrations in the George H. Stephenson  Foundation Educational Laboratory & Bio-MakerSpace which were open to the entire Penn community. This year's winners of the Bioengineering Senior Design Competition were teams Chrysalis, Modulo Prosthetics, and ReiniSpec.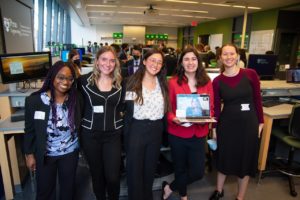 The three winning teams went on to compete in the annual interdepartmental Senior Design Competition sponsored by the Penn Engineering Alumni Society. BE took home two of the four interdepartmental awards: Team Modulo Prosthetics won the "Technology and Innovation Prize," recognizing the project which best represents the highest and best use of technology and innovation to leverage engineering principles; and Team ReiniSpec won the "Leadership Prize," which recognizes the team which most professionally and persuasively presents their group project to incorporate a full analysis of their project scope, advantages, and challenges, and addresses the commercialization and future potential of their research.
All BE teams were also required to submit their projects to local and national competitions, and were met with resounding success. "The creativity and accomplishment of this Senior Design class is really unparalleled," said David Meaney, Solomon R. Pollack Professor in Bioengineering, Senior Associate Dean of Penn Engineering, and instructor for Senior Design. "The number of accolades received by these students, as well as the interest in transforming their ideas into real products for patients, reached a new level that makes us extremely proud."
Keep reading for a full list of this year's projects and awards.
Team 1 – MEViD
MEViD (Multichannel Electrochemical Viral Diagnostic) is a modular, low cost device that leverages electrochemistry to rapidly diagnose viral diseases from saliva samples.
Team members: Yuzheng (George) Feng, Daphne Kontogiorgos-Heintz, Carisa Shah, Pranshu Suri, & Rachel Zoneraich
Team 2 – MOD EZ-IO
MOD EZ-IO is a low-cost, novel intraosseous drill that uses force and RPM readings to alert the user via an LED when they have breached cortical bone and entered cancellous bone, guiding proper IO placement.
Team members: Gregory Glova, Kaiser Okyan, Patrick Paglia, Rohan Vemu, & Tshepo Yane
Team 3 – Harvest by Grapevine
Harvest by Grapevine is a user-centric software solution that merges social network communication and supply chain logistics to connect hospitals and suppliers under one unified platform.
Team members: Nicole Bedanova, Kerry Blatney, Blake Grimes, Brenner Maull, & Lukas Yancopoulos
Team 4 – CliniCall
CliniCall helps streamline and centralize communication channels, offering a real-time monitoring device that enables on-site/attending physicians to communicate with on-call physicians through a livestream of patients and data.
Team members: Neepa Gupta, Santoshi Kandula, Sue Yun Lee, & Ronil Synghal
Team 5 – PneuSonus
PneuSonus is a low-cost, user-friendly wearable strap that aids in detecting pediatric pneumonia by using frequency analysis of sound waves transmitted through the lungs to identify specific properties related to fluid presence, a valid indicator specific to pneumonia.
Team members: Iman Hossain, Kelly Lopez, Sophia Mark, Simi Serfati, & Nicole Wojnowski
Team 6 – Chrysalis
Chrysalis is a smart swaddle system comprising an electric swaddle and accompanying iOS application that comforts neonatal abstinence syndrome infants via stochastic resonance and maternal heartbeat vibrational patterns to reduce opioid withdrawal symptoms without pharmacological intervention or constant nurse oversight as well as streamlines the Eat, Sleep, Console documentation process for nurses.
Team members: Julia Dunn, Rachel Gu, Julia Lasater, & Carolyn Zhang
Team 7 – EquitOx
EquitOx is a revolutionized fingertip pulse oximeter designed for EMS that addresses racial inequality in medicine through the use of one-off tongue-calibrated SpO2 measurements.
Team members: Ronak Bhagia, Estelle Burkhardt, Juliette Hooper, Caroline Smith, & Kevin Zhao
Team 8 – Modulo Prosthetics
Modulo Prosthetic is an adjustable, low-cost, thumb prosthetic with integrated haptic feedback that attaches to the metacarpophalangeal (MCP) joint of partial hand amputees and assists in activities of daily living (ADLs).
Team members: Alisha Agarwal, Michelle Kwon, Gary Lin, Ian Ong, & Zachary Spalding
Team 9 – Cor-Assist By Cygno Technologies
COR-ASSIST by Cygno Technologies is a low-cost intra-aortic balloon enhancement that directly supports heart function by increasing cardiac output to 2.8L/min, at a much lower cost and bleeding risk than the current Impella cardiac assist device.
Team members: Francesca Cimino, Allen Gan, Shawn Kang, Kristina Khaw, & William Zhang
Team 10 – Pedalytics
Pedalytics Footwear is a rechargeable sandal that continuously monitors foot health and prevents diabetic foot ulcer formation by novelly tracking three key metrics indicative of ulceration, temperature, oxygen saturation, and pressure, and sending alerts to patients via the Pedalytics app when metric abnormalities are detected.
Team members: Samantha Brosler, Constantine Constantinidis, Quincy Hendricks, Ananyaa Kumar, & María José Suárez
Team 11 – ReiniSpec
ReiniSpec is a redesigned speculum to improve the gynecological exam experience, increasing patient comfort with a silicone shell and using motorized arm adjustments to make it easily adjustable for each patient, while also incorporating a camera, lights, and machine learning to aid in better diagnosis by gynecologists.
Team members: Caitlin Frazee, Caroline Kavanagh, Ifeoluwa Popoola, Alexa Rybicki, & Michelle White
Learn more about the 2022 Senior Design projects, including full abstracts and photo gallery, on the Stephenson Bio-MakerSpace website.
Watch all the 2022 project pitches on the BE Labs Youtube channel 2022 Senior Design Playlist: