by Evan Lerner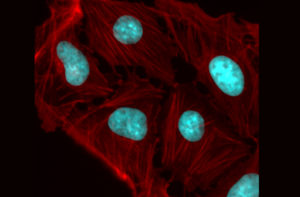 Advances in cell and molecular technologies are revolutionizing the treatment of cancer, with faster detection, targeted therapies and, in some cases, the ability to permanently retrain a patient's own immune system to destroy malignant cells.
However, there are fundamental forces and associated challenges that determine how cancer grows and spreads. The pathological genes that give rise to tumors are regulated in part by a cell's microenvironment, meaning that the physical push and pull of neighboring cells play a role alongside the chemical signals passed within and between them.
The Penn Anti-Cancer Engineering Center (PACE) will bring diverse research groups from the School of Engineering and Applied Science together with labs in the School of Arts & Sciences and the Perelman School of Medicine to understand these physical forces, leveraging their insights to develop new types of treatments and preventative therapies.
Supported by a series of grants from the NIH's National Cancer Institute, the PACE Center is Penn's new hub within the Physical Sciences in Oncology Network. It will draw upon Penn's ecosystem of related research, including faculty members from the Abramson Cancer Center, Center for Targeted Therapeutics and Translational Nanomedicine, Center for Soft and Living Matter, Institute for Regenerative Medicine, Institute for Immunology and Center for Genome Integrity.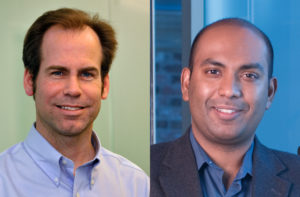 The Center's founding members are Dennis Discher, Robert D. Bent Professor with appointments in the Departments of Chemical and Biomolecular Engineering (CBE), Bioengineering (BE) and Mechanical Engineering and Applied Mechanics (MEAM), and Ravi Radhakrishnan, Professor and chair of BE with an appointment in CBE.
Discher, an expert in mechanobiology and in delivery of cells and nanoparticles to solid tumors, and Radhakrishnan, an expert on modeling physical forces that influence binding events, have long collaborated within the Physical Sciences in Oncology Network. This large network of physical scientists and engineers focuses on cancer mechanisms and develops new tools and trainee opportunities shared across the U.S. and around the world.
Additional Engineering faculty with growing efforts in the new Center include Lukasz Bugaj, Alex Hughes and Jenny Jiang (BE), Bomyi Lim (CBE), Jennifer Lukes (MEAM) and Vivek Shenoy (Materials Science and Engineering).
Among the PACE Center's initial research efforts are studies of the genetic and immune mechanisms associated with whether a tumor is solid or liquid and investigations into how physical stresses influence cell signaling.
Originally posted in Penn Engineering Today.