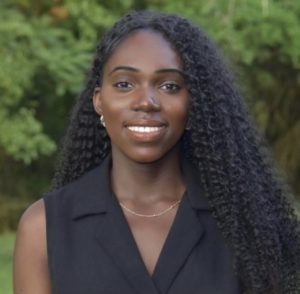 Congratulations to recent Penn Bioengineering graduate Dayo Adetu, who was awarded a 2021 Graduate Leadership Award, one of only sixteen recipients across the university. Adetu is a recipient of the Dr. Andy Binns Award for Outstanding Service to Graduate and Professional Student Life. This award is presented to "graduate or professional students, upon their graduation from Penn, who have significantly impacted graduate and professional student life through service involvement in student life initiatives or organizations." Adetu wins this award for her "service and leadership in advancing wellness and diversity initiatives across departments in the School of Engineering."
Adetu graduated with a BSE in Bioengineering (BE) in 2019, concentrating in Biomedical Devices and minoring in Engineering Entrepreneurship, Math, and African Studies. She went on to pursue two Master's degrees in BE and Mechanical Engineering and Applied Mechanics (MEAM) (concentration: Design and Manufacturing), graduating with both in 2021. She also received a certificate in Integrated Product Design. For the 2020-2021 academic year, she served as President of the Penn chapters of both the Graduate Association of Bioengineers (GABE) and the Mechanical Engineering Graduate Association (MEGA). She was the 2021 MEAM MSE Graduation student speaker and also received the Penn Engineering Graduate Award for Outstanding Service for both BE and MEAM Departments.
Learn more about the Penn Graduate Leadership Awards and read the full list of recipients on the Grad Center at Penn website.