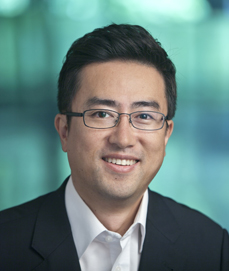 The Chan Zuckerberg Initiative (CZI) has announced $14 million in funding to support 29 interdisciplinary teams who are investigating the role of inflammation in disease. Among these recipients is Dan Huh, Associate Professor in Bioengineering, whose placenta-on-a-chip research will "explore how maternal and fetal cells respond to specific inflammatory signals and analyze the network of placental cells and immune cells that impact pregnancy outcomes in chronic inflammatory diseases."
Kellie Ann Jurado, Presidential Assistant Professor in the Perelman School of Medicine's Department of Microbiology, will lead the research team. She and Huh will collaborate with Monica Mainigi, William Shippen, Jr. Assistant Professor of Human Reproduction in Penn Medicine.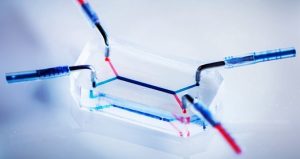 Huh's placenta-on-a-chip consists of a small block of silicone containing microfluidic channels separated by a membrane of human cells. Variations in designs and cell types allow researchers to study how different molecules cross that barrier, allowing for experiments that would be otherwise impossible or unethical. For example, Huh and his group previously used a placenta-on-a-chip designed to model the placental barrier to research the effect of maternally-administered medications on the fetal bloodstream.
In this new study, Huh, Jurando and Mainigi were motivated by even more fundamental questions of pregnancy.
"It has been known for quite some time that women with chronic inflammatory diseases are at increased risk of developing various complications during pregnancy," Huh says. "Despite accumulating clinical evidence, we understand little about how inflammation contributes to adverse pregnancy outcomes."
Read the full story on the Penn Engineering blog.