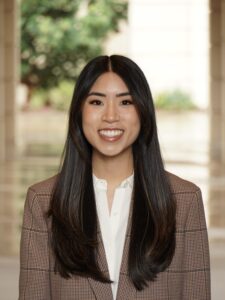 Twenty-nine University of Pennsylvania students, recent graduates, and alumni have been offered Fulbright U.S. Student Program grants for the 2023-24 academic year, including eight seniors who graduated May 15.
They will conduct research, pursue graduate degrees, or teach English in Belgium, Brazil, Colombia, Denmark, Ecuador, Estonia, France, Germany, Guatemala, India, Israel, Latvia, Mexico, Nepal, New Zealand, the West Bank-Palestine territories, South Korea, Spain, Switzerland, Taiwan, and Thailand.
The Fulbright Program is the United States government's flagship international educational exchange program, awarding grants to fund as long as 12 months of international experience.
Most of the Penn recipients applied for the Fulbright with support from the Center for Undergraduate Research and Fellowships.
Among the Penn Fulbright grant recipients for 2023-24 is Ella Atsavapranee, from Cabin John, Maryland, who graduated in May with a bachelor's degree in bioengineering from the School of Engineering and Applied Science and a minor in chemistry from the College. She was offered a Fulbright to conduct research at the École Polytechnique Fédérale de Lausanne in Switzerland.
At Penn, Atsavapranee worked with Michael Mitchell, J. Peter and Geri Skirkanich Assistant Professor in Bioengineering, engineering lipid nanoparticles to deliver proteases that inhibit cancer cell proliferation. She has also worked with Shan Wang, Leland T. Edwards Professor in the School of Engineering and Professor of Electrical Engineering at Stanford University, using bioinformatics to discover blood biomarkers for cancer detection. To achieve more equitable health care, she worked with Lisa Shieh, Clinical Professor in Medicine at the Stanford School of Medicine,  to evaluate an AI model that predicts risk of hospital readmission and study how room placement affects patient experience.
Outside of research, Atsavapranee spread awareness of ethical issues in health care and technology as editor-in-chief of the Penn Bioethics Journal and a teaching assistant for Engineering Ethics (EAS 2030). She was also a Research Peer Advisor for the Penn Center for Undergraduate Research & Fellowships (CURF), a student ambassador for the Office of Admissions, and a volunteer for Service Link, Puentes de Salud, and the Hospital of the University of Pennsylvania. She plans to pursue a career as a physician-scientist to develop and translate technologies that are more affordable and accessible to underserved populations.
Read the full list of Penn Fulbright grant recipients for 2023-24 in Penn Today.