A team of Penn Bioengineering Senior Design students was featured as the 3D print of the week by the Penn Biomedical Library's Biomeditations blog.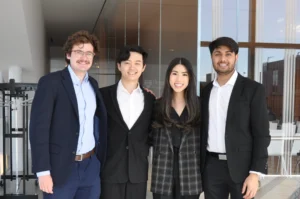 Fourth-year undergraduate students Ella Atsavapranee, Jake Becker, Ruoming Fan, and Savan Patel created StablEyes, "a stabilization mount that provides fine, motorized control of the handheld OCT to improve ease of use for physicians and machine learning-based software to aid in diagnosis from retinal images." The team made use of 3D printing services, laboratory space, and expertise across Penn's campus to create their innovative design, including the Bollinger Digital Fabrication Lab in the Holman Biotech Commons, the Fisher Fine Arts Library, the Children's Hospital of Philadelphia (CHOP), and the George H. Stephenson Foundation Educational Laboratory & Bio-MakerSpace (aka the Penn BE Labs).
Read "Featured 3D Print: Simplifying Retinal Imaging with StablEyes" by Lexi Voss in Biomeditations.