Since 1916, University of Pennsylvania undergraduates have celebrated their last class day as juniors to mark Hey Day. While initially conceived as something solemn and rather formal, today it is an opportunity for students to get decked out in red T-shirts and novelty straw hats and bamboo canes (fashions from 1916) and celebrate.
This year, Hey Day was on April 27, and it was no exception to previous years. Several of our rising seniors were celebrating with everyone on College Green.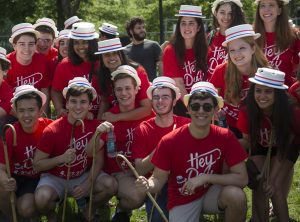 In addition to the gathering of students to be "officially" be made seniors by University President Amy Gutmann (see video here) and a passing of the gavel to next year's junior class president, some students dropped in on their favorite teachers and staff members to say hello.