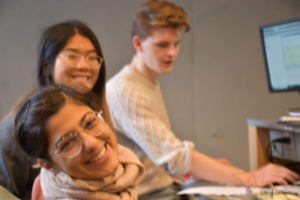 Three recent Penn Bioengineering graduates took home the Best Application Award from the Medical Robotics for Contagious Disease Challenge, part of the three-month Hamlyn Symposium on Medical Robotics. Organized by the Hamlyn Centre at Imperial College, London, UK, in collaboration with the UK-RAS Network, the challenge involved "creating a 2-minute video of robotic or AI technology that could be used to tackle contagious diseases" in response to the current and potential future pandemics. Yasmina Al Ghadban, Rob Paslaski, and Phuong Vu were members of the Penn Bioengineering senior design team rUmVa who designed and built a cost-effective, autonomous robot that can quickly disinfect rooms by intelligently sanitizing high-touch surfaces and the air. The Best Application Award comes with a prize of £5,000.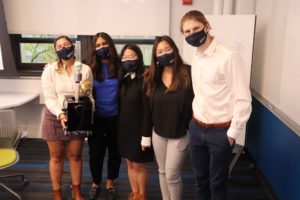 Team rUmVa, which also included Bioengineering seniors Rachel Madhogarhia and Jeong Inn Park, also received a Berkman Opportunity fund grant from Penn Engineering and was one of three teams to win Penn Bioengineering's Senior Design competition. Senior Design work is conducted every year on-site in the George H. Stephenson Foundation Educational Laboratory & Bio-MakerSpace (which successfully reopened for in-person activities this Spring semester). Read the full list of Spring 2021 Senior Design Award Winners here.
rUmVa and the other challenge winners were honored during the Hamlyn Symposium's virtual closing ceremony on July 29, 2021.
Read rUmVa's abstract and final papers, along with those of all of the Penn Bioengineering Teams', on the BE Labs Senior Design 2021 website. rUmVa's presentation can be viewed on Youtube: