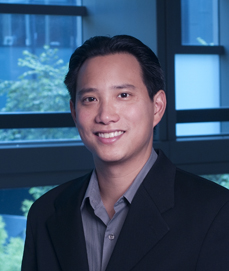 The National Institutes of Health (NIH) has awarded a grant to Brian Chow, Ph.D., an assistant professor in the Department of Bioengineering, to study ultrafast genetically encoded voltage indicators (GEVIs). GEVIs are proteins that can detect changes in the electrical output of cells and report those changes by emitting different color light. His research seeks to create GEVIs that can report these changes much more rapidly – in fact, more than a million times more quickly than the velocity of the changes themselves – and apply these ultrafast GEVIs to the study of the brain.
The NIH-funded research will build on earlier research, employing de novo fluorescent proteins (dFPs) created in Dr. Chow's lab. These dFPs, which are totally artificial and unrelated to natural proteins, report voltage changes in neurons by changing in brightness. Working with a team of investigators that includes faculty members from the Departments of Biochemistry & Biophysics and Neuroscience, Dr. Chow hopes to develop these ultrafast GEVIs.
"Monitoring thousands of neurons in parallel will shed new light on cognition, learning and memory, mood, and the physiological underpinnings of nervous system disorders," he says.