Each year, Penn Engineering's seniors present their Senior Design projects, a year-long effort that challenges them to test and develop solutions to real-world problems, to their individual departments. The top three projects from each department go on to compete in the annual Senior Design Competition, sponsored by the Engineering Alumni Society, which involves pitching projects to a panel of judges who evaluate their potential in the market.
We are proud that two of the four awards went to Penn Bioengineering teams!
This year's panel included over forty judges, and each winning team received a $2,000 prize, generously sponsored by Penn Engineering alumnus Kerry Wisnosky.
Congratulations to all of the 2023 participants and winners!
Technology & Innovation Award
This award recognized the team whose project represents the highest and best use of technology and innovation to leverage engineering principles.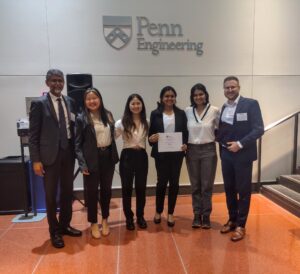 Winner: Team BAMBI
Department: Bioengineering
Team Members: Ria Dawar, Pallavi Jonnalagadda, Jessica Ling, Grace Qian
Mentor: Erin Anderson
Instructors: Erin Berlew, Sevile Mannickarottu, and David Meaney
Abstract: BAMBI (Biointelligent Apnea Monitor for Bradycardia-Prone Infants) is a tripartite system that leverages machine learning and automated mechanical stimulation to detect and treat apnea of prematurity in the NICU.
Judges' Choice Award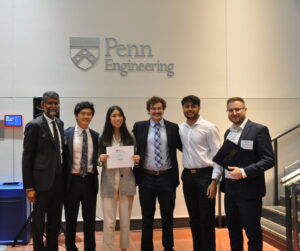 This award recognizes the group whose all-around presentation captures the best of the senior design program's different facets:  ideation, scope of project, team problem-solving, execution and presentation.
Winner: Team StablEyes
Department: Bioengineering
Team Members: Ella Atsavapranee, Jake Becker, Ruoming Fan, Savan Patel
Mentor: Erin Anderson, Dr. Drew Scoles and Dr. Tomas Aleman (Children's Hospital of Philadelphia, Penn Medicine)
Instructors: Erin Berlew, Sevile Mannickarottu, and David Meaney
Abstract: StablEyes consists of a stabilization mount that provides fine, motorized control of the handheld OCT to improve ease of use for physicians and machine learning-based software to aid in diagnosis from retinal images.
Read the full list of SEAS Senior Design Competition Award winners in Penn Engineering Today.
Read more about all the Class of 2023 Penn Bioengineering Senior Design Teams in the Penn BE Labs website.