Advances in Stem Cell Research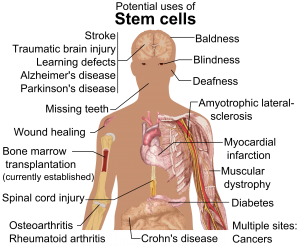 A paper published this month in Scientific Reports announced a new a strategy for the treatment of segmental bone defects. The new technique, called Segmental Additive Tissue Engineering (or SATE) comes from a team of researchers with the New York Stem Cell Foundation Research Institute (NYSCF). A press release from the NYSCF and an accompanying short video (below) describe the breakthrough technique, which will "[allow] researchers to combine segments of bone engineered from stem cells to create large scale, personalized grafts that will enhance treatment for those suffering from bone disease or injury through regenerative medicine."
Segmental Additive Tissue Engineering from NYSCF on Vimeo.
Ralph Lauren Senior Investigator Guiseppe Maria de Peppo, PhD, and first author Martina Sladkova, PhD, express their hope that this new procedure will help address some of the limitations of bone grafts, such as immune system rejection, the need for growing bones in pediatric patients, and the difficulty of creating larger bone grafts made from patient stem cells.
Elsewhere in stem cell research, the Spanish Agency for Medicines and Medical Devices has given the company Viscofan BioEngineering approval to start clinical trials for stem cell therapy to treat heart failure. Already a world leader in the market for medical collagen, Viscofan is now turning its research toward using collagen (a protein found in the connective tissue of mammals) to strengthen the weakened heart muscle of those with ischemic cardiomyopathy, a type of heart failure and the leading cause of death in the world. This new "Cardiomesh" project includes collaborators from industry, academia, and hospitals to create this elastic and biodegradable product. Viscofan expects to start clinical trials after the summer of this year, and the full details can be found in Viscofan's press release.
Federal Grant Supports International Bioengineering Research
The Canadian government awarded a $1.65 million federal grant to two top Canadian universities to develop a center based on engineering RNA. The University of Lethbridge and the Université de Sherbrooke will team up with international collaborators from the United States, Germany, France, Australia, and more and to found and develop the Ribonucleic Acid Bioengineering and Innovation Network Collaborative Research and Training Experience over the next six years. This comes as part of the Canadian government's CREATE initiative, which awards grants to research teams across the country to support research, innovation, and jobs-creation in the sciences. These two universities are national leaders in the field of RNA research, a diverse and interdisciplinary field. This new network will focus on training of both young academics transitioning to industry and entrepreneurs looking to develop new technologies. This project is led by Hans-Joachim Wieden, PhD, Chemistry and Biochemistry faculty at the University of Lethbridge and an Alberta Innovates Strategic Chair in RNA Bioengineering.
Lehigh University Awarded Grant in Ebola Research
Close to Philadelphia in Allentown, PA, researchers at Lehigh University received a National Science Foundation (NSF) grant to support their research into one of the deadliest of modern diseases, the Ebola virus, which is highly infectious and currently without vaccine or cure. Entitled "TIM Protein-Mediated Ebola Virus-Host Cell Adhesion: Experiments and Models," the goal of this research is to create a "predictive and quantitative model of the Ebola Virus (EBOV)-host cell interactions at the molecular through single-virus levels." Building on past research, the investigators ultimately hope to provide the first quantitative study of this type of cell interaction. By studying how EBOV enters the body through healthy cells, the aim is to understand how it works and ultimately develop a technique to stop its entry. The lead investigator, Anand Jagota, PhD, is the current Professor and Founding Chair of Lehigh University's Bioengineering program.
New Research in Brain Tumor Removal
The National Institute of Biomedical Imaging and Bioengineering (NIBIB) awarded a grant to Fake (Frank) Lu, PhD, Assistant Professor of Biomedical Engineering at the State University of New York (SUNY) at Binghamton in support of his research to design more accurate techniques for the removal of brain tumors. His technique, called Stimulated Raman Scattering or SRS, is a mode of identifying molecules during surgery which can be used to create a highly detailed and accurate image. Dr. Lu's SRS techniques will improve both the speed of the surgery and the accuracy of the tissue removal. With this grant support, Dr. Lu's team will collaborate with local universities and hospitals on collecting more data as their next step before making the technology more widely available.
People and Places
Undergraduate students at our neighbor Drexel University received the Robert Noyce Scholarship, an NSF program that supports students seeking their teacher certification in science and math at the middle school level. The co-investigators and undergraduates are from a variety of disciplines and programs across the university, including co-investigator Donald L. McEachron, PhD, Teaching Professor of Biomedical Engineering, Science and Health Systems. The students' curriculum in the DragonsTeach Middle Years program will combine rigorous preparation for teaching STEM subjects and the foundational knowledge to work with under-served schools.
Another group of students, this time from California State University, Long Beach, used their victory in the university's annual Innovation Challenge as an opportunity to launch a startup called Artemus Labs. Their first product, "Python," uses body heat other physical sensations to regulate a prosthetic liner, useful in making sure prosthetic limbs are comfortable for the wearer. The students explained that their idea was driven by need, as few prosthetic manufacturers prioritize such factors as temperature or sweat regulation in the creation of their products.
Finally, the University of Southern California Viterbi School of Engineering has a new Chair of Biomedical Engineering: Professor K. Kirk Shung, PhD. Dr. Shung obtained his doctorate from the University of Washington and joined USC in 2002. With a background in electrical engineering, Dr. Shung's research focuses on high frequency ultrasonic imaging and transducer development, and has been supported by a NIH grant as well as won multiple awards from the American Institute of Ultrasound in Medicine and the Institute of Electrical and Electronics Engineers (IEEE), among others.