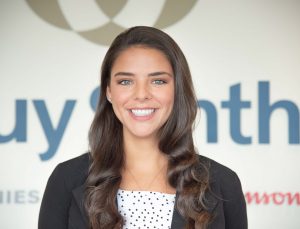 Danielle Rossi earned her M.S.E. in Bioengineering in December 2018 and is now a R&D Leadership and Development Program Engineer with Johnson & Johnson Medical Devices. Here she reminisces about her research opportunities at Penn and her fond memories of Philly.
"When I first started at Penn, I was amazed by all of the opportunities to learn, to challenge myself, to network, and to innovate. My time at Penn was filled with interesting classes, dedicated faculty, challenging problems to solve, and collaboration. From writing a mock NIH research grant for a tissue engineered Intervertebral Disk in BE 553, to designing an electromechanical device controlled with muscle movement in BE 570, to writing up a business plan and pitching to investors in EAS 546, every new day came with a new venture.
On top of the exciting classes and projects, Penn has numerous research labs and healthcare facilities so that students can apply their skills to real-world problems. While I was a student, I had the opportunity to work at the Abramson Cancer Center in the Cancer Risk Evaluation Program. The program focused on patient risk evaluations, including genetic testing for certain cancers such as breast, ovarian, and sarcoma. This exposed me to the healthcare environment and gave me a new perspective on preemptive medicine.
During my free time, I loved to tour the historically and culturally rich city of Philadelphia. I have the fondest memories of exploring the city with my BE friends and storming the Philly streets when the Eagles won the Super Bowl!
While at Penn, I was sure to utilize Career Services to help me spruce up my resume and interview skills. I was lucky enough to meet with Johnson & Johnson Medical Devices at a Penn career fair and was offered a spot in the R&D Leadership and Development Program. The program allows me to rotate through three different J&J Medical Device companies as an R&D Engineer to gain exposure to new product development, mechanical design, computational modeling, manufacturing, design quality and more. "
This post is part of BE's Alumni Spotlight series. Read more testimonies from BE Alumni on the BE website.