Three Penn seniors combine their desire to help with their unique skill sets to create Corona Connects, an online platform that connects volunteers with organizations in need of support.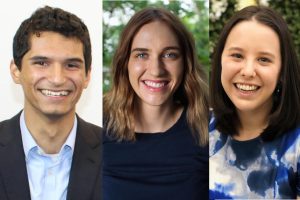 by Erica K. Brockmeier
With college campuses shut due to the novel coronavirus, many students with new-found time on their hands have found themselves asking, "What can I do to help?"
To connect people with organizations that need support, three students have combined their desire to help with the skills they've learned both inside and outside the classroom. Developed by Penn seniors Steven Hamel from the School of Engineering and Applied Science, Megan Kyne from the Wharton School, and Hadassah Raskas from the College of Arts & Sciences, the online platform Corona Connects bridges the gap between people looking for ways to help and organizations looking for support.
After returning to her hometown of Silver Spring, Maryland, Raskas was eager to find some way to help but noticed that it was difficult to find opportunities online. With friends and colleagues voicing similar struggles, Raskas reached out to University of Maryland junior Elana Sichel and started putting together a list of organizations in need of help. Then, after reaching out on the Class of 2020 Facebook page about the project, Hamel, from Philadelphia, and Kyne, from Pittsburgh, offered their support to get an online platform up and running.
The team of students quickly realized that there was both a large number of individuals who wanted to find ways to help alongside an unprecedented level of need from numerous types of organizations. "We knew there was need, and we knew there was an availability of people, but the connection was missing, so we built Corona Connects to bridge this gap," says Raskas.
Continue reading on Penn Today.
Steven Hamel graduated with his B.S.E. in Bioengineering and a Math minor in in 2020 and is currently pursuing a Master's in Bioengineering.