By Solumtochukwu (Somto) Egboga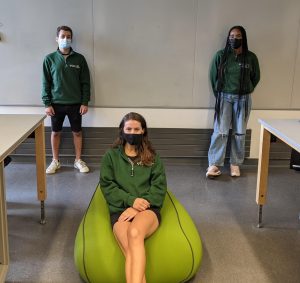 Since the country began shutting down in March, I have joined the majority of the world in calling the times "unprecedented": The word, which I rarely used before the pandemic, is now a staple of my lockdown lexicon. In March, we all got the email that changed the trajectory of the rest of our semester and the school year. Since then, COVID-19 has been impacting lives here at Penn, around the nation, and the world. Hanging out with friends and family on Zoom, managing work and school from home, social distancing, wearing masks everywhere, and constantly washing hands have been the reality of our new normal for months.
It has been almost ten months since the World Health Organization declared COVID-19 a pandemic and this has posed a global crisis like nothing most of us have experienced in our lifetime. At Penn, the campus community including students and staff have rallied to keep each other safe, all while doing what is possible to ensure that lectures, teaching, and research are possible in ways that uphold the university's mission of "strengthening the quality of education and producing innovative research and models of healthcare delivery by fostering a vibrant inclusive environment and fully embracing diversity."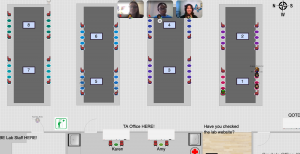 In Penn Engineering's Bioengineering Department, the Stephenson Foundation Educational Laboratory & Bio-MakerSpace has been at the heart of ensuring that lab-based classes run as smoothly as possible given the circumstances. First off, during the summer, the lab launched a Slack site that not only kept students engaged and connected through fun, daily "Questions of the Day" but also gave them the opportunity to reach out to our staff and obtain their expertise for coursework and personal projects. The staff at the Stephenson Lab also supported and continue to support Senior Design students (BE 495) with their projects by ordering, receiving, packaging, arranging pickups, or mailing supplies needed to complete their Senior Design projects. In addition, class time takes place using Gather.Town to recreate our Bio-MakerSpace virtually. In other classes, video tutorials of some of the experiments students were missing out on were produced over the summer and made available to students so they could learn by seeing what the lab staff were doing in the videos. For the Bioengineering Modeling, Analysis, and Design (BE MAD) class (BE 309), in addition to videos, our lab Engineer, Michael Patterson, developed software through which students can enter design criteria and have experimental data emailed to them.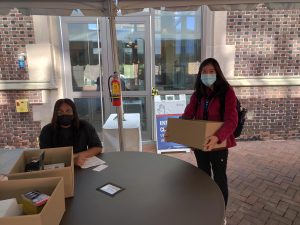 The staff at the lab also supported a Rehabilitation Engineering course (BE 514) taught by Michelle Johnson, Associate Professor in Physical Medicine and Rehabilitation and Bioengineering, by putting together supplies that enabled students in the class to reengineer toy bunny rabbits to be more accessible to children with disabilities. Optical Microscopy (BE 518), another Bioengineering course, taught by Christopher Fang-Yen, Associate Professor in Bioengineering and Neuroscience, offers students an introduction to the fundamental concepts of optics and microscopy. The staff at the lab put together kits and made them available for pickup by the students in the class.
In a time when the shape of education looks vastly different from what we anticipated this year, the Bio-MakerSpace has been instrumental in ensuring that students still have access to resources that make their learning experience an enriching one. In these unprecedented times, the lab has been able to encourage students to keep up and be engaged with their coursework while also fostering creativity in students, virtually and remotely. While we may not know what life after the pandemic will look like, one thing to be sure of is that the Stephenson Lab will always be a reliable place for Penn students to get support for personal projects and coursework when needed.
Solumtochukwu (Somto) Egboga is a Master's Student in Bioengineering, graduating December 2020. She also is a student employee for the Stephenson Foundation Bioengineering Laboratory & Bio-MakerSpace.