by Meagan Raeke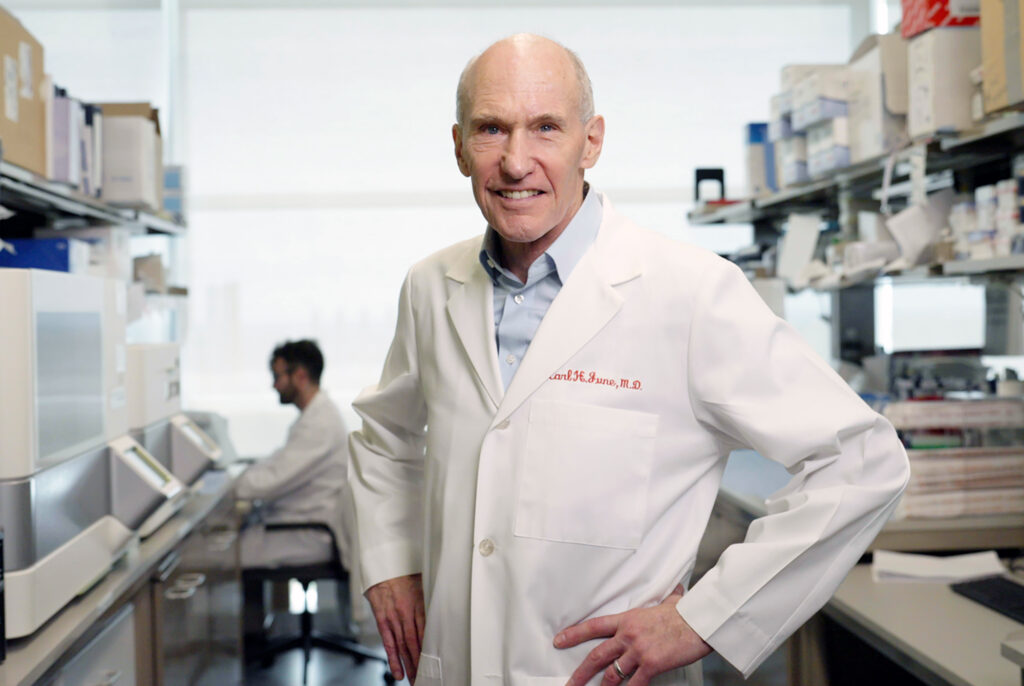 CAR T cell therapy pioneer Carl June, the Richard W. Vague Professor in Immunotherapy in the Perelman School of Medicine and director of the Center for Cellular Immunotherapies (CCI) at Penn Medicine's Abramson Cancer Center, has been named a winner of the 2024 Breakthrough Prize in Life Sciences for the development of chimeric antigen receptor (CAR) T cell immunotherapy, a revolutionary cancer treatment approach in which each patient's T cells are modified to target and kill their cancer cells. The invention sparked a new path in cancer care, harnessing the power of patients' own immune systems, a once-elusive goal that brought fresh options for those who could not be successfully treated with conventional approaches.
Founded in 2012, the Breakthrough Prizes are the world's largest science awards, with $3 million awarded for each of the five main prize categories. June is the sixth Breakthrough Prize laureate from Penn, which joins Harvard and MIT among the institutions whose researchers have been honored with the most Breakthrough Prizes.
"This award is not only a testament to Dr. June's outstanding contributions to science, but also a shining example of the caliber of discoveries and research which Penn faculty set their sights upon," said Penn President Liz Magill. "We are immensely proud to have Dr. June as a member of the Penn academic community, and we know that CAR T cell therapy is just the first chapter in an inspiring and lifesaving new era of medicine."
June is internationally recognized for his role in pioneering the CAR T cell therapy, which led to the first FDA-approved personalized cellular therapy, for children and young adults with the blood cancer known as acute lymphoblastic leukemia, in August of 2017—a step which has spurred five additional approvals of the technique in other blood cancers. June joined Penn in 1999, building momentum for Penn to become a global hub for cell and gene therapy. Gene-modified T cells engineered in June's lab to retrain a patient's own immune cells to attack cancer were used in the first clinical trial of CAR T cell therapy in 2010. Some of the earliest children and adults treated have experienced long-lasting remissions of 10 years or more. In addition to the FDA approvals that have made the therapy commercially available to patients across the world, thousands more have benefited from clinical trials testing these transformative treatments, including for the treatment of solid tumors and even autoimmune diseases like lupus.
"Dr. June's tireless commitment to advancing T cell immunotherapy research has been life-changing for many patients affected by cancer, who have lived longer, fuller lives, thanks to the discoveries made in his lab," said J. Larry Jameson,executive vice president of the University of Pennsylvania for the Health System and dean of the Perelman School of Medicine. "We are proud to see one of Penn's most esteemed scientists recognized for the impact of his foundational work to develop a new class of cancer immunotherapy treatment."
Read the full story in Penn Today.
June is a member of the Penn Bioengineering Graduate Group. Read more stories featuring June on the BE Blog here.