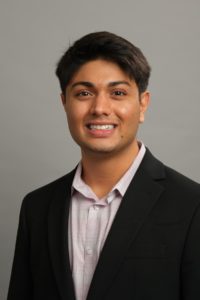 Savan Patel, a junior studying Bioengineering and Finance in the Jerome Fisher Management and Technology dual degree program, was selected as the recipient of the 2022 C. William Hall Scholarship from the Society for Biomaterials. The C. William Hall Scholarship is named in honor of the Society for Biomaterials' first president and is awarded annually "to a junior or senior undergraduate pursuing a bachelor's degree in bioengineering or a related discipline focusing on biomaterials." As this year's recipient, Savan will receive complimentary membership to the Society and will have expenses paid to the Society's annual meeting being held April 27-30, 2022 in Baltimore, Maryland.
Savan is currently a member of the lab of Michael J. Mitchell, Skirkanich Assistant Professor of Innovation in Bioengineering. Savan's research interests lie in the interface of drug delivery and immunoengineering with a particular focus on T cell delivery. His current project involves the use of modified cholesterol molecules to improve the delivery of nucleic acids (i.e., mRNA) to cell populations using lipid nanoparticles.
Lipid nanoparticles (LNPs) are a clinically proven delivery platform for nucleic acid therapeutics. One drawback of these particles is their high cellular recycling rate. Savan and the members of the Mitchell lab are working to reduce this recycling by leveraging cellular processes and incorporating modified molecules into our lipid nanoparticle formulations. The focus of Savan's project is on modifying cholesterol, a molecule that is important to both our LNP formulations and cell membranes. The goal is to generate a more potent delivery platform to improve current therapeutics.
Following graduation, Savan intends to pursue a Ph.D. in Bioengineering.