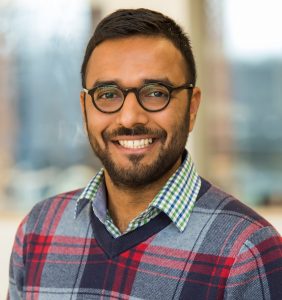 The Department of Bioengineering at Penn is thrilled to congratulate Yogesh Goyal, PhD on receiving a Burroughs Wellcome Fund (BWF) Career Award at the Scientific Interface (CASI) award for 2020-2025. He is currently a Jane Coffins Child Fellow in the lab of Arjun Raj, Professor of Bioengineering.
The BWF CASI Career Awards provide $500,000 over five years to bridge advanced postdoctoral training and the first three years of faculty service; and to foster the early career development of researchers who have transitioned from physical/mathematical/computational sciences or engineering into the biological sciences, and who are dedicated to pursuing a career in academic research. Goyal is one of just eight recipients of the 2020-2025 CASI award.
Goyal did much of his schooling in Jammu and Kashmir, India, and received his undergraduate degree in Chemical Engineering at the Indian Institute of Technology, Gandhinagar. He received his PhD from Princeton University in the Department of Chemical and Biological Engineering and the Lewis-Sigler Institute for Integrative Genomics, under the joint mentorship of Stanislav Shvartsman, PhD, and Gertrud Schüpbach, PhD. After finishing his doctorate, he came to Penn Bioengineering to work in the Raj Lab for Systems Biology.
Goyal's research work is centered around developing novel mathematical and experimental frameworks to study how a rare subpopulation of cancer cells are able to survive drug therapy and develop resistance, resulting in relapse in patients. In particular, his work will provide a view of different paths that single cancer cells take when becoming resistant, at unprecedented resolution and scale. In turn, this will help devise novel therapeutic strategies to combat the challenge of drug resistance in cancer.
"I am very excited to be a part of the community of the Burroughs Wellcome Fund CASI award past and present recipients, which also includes my postdoctoral adviser Arjun Raj, who received this award in 2008," Goyal says. "This CASI award will help provide me with the freedom to pursue high risk research directions as I transition to faculty. I feel fortunate to be surrounded by kind and supportive colleagues in the Bioengineering Department at Penn, an environment that has been critical for my interdisciplinary journey as a scientist."