by Mahelet Asrat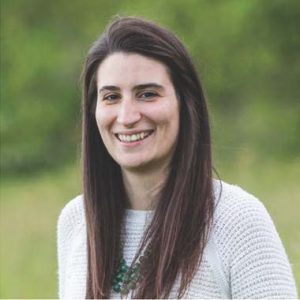 The Department of Bioengineering is proud to congratulate alumna Brianne Connizzo, PhD on her appointment as a tenure-track Assistant Professor in the Department of Biomedical Engineering in the College of Engineering at Boston University. Connizzo's appointment will begin in January 2021, after completing her work as a postdoctoral researcher in Biological Engineering at MIT under the supervision of Alan J. Grodzinsky, ScD, Professor of Biological, Electrical, and Mechanical Engineering.
Connizzo got her BS in Engineering Science from Smith College (the first all women's engineering program in the country) where she graduated in 2010 with highest honors. During her time there, she worked in the laboratory of Borjana Mikic, Rosemary Bradford Hewlett 1940 Professor of Engineering. While working in the lab, she explored the role of myostatin deficiency on Achilles tendon biomechanics and built mechanical testing fixtures for submerged testing of biological tissues. Connizzo continued along this path during her graduate studies in Bioengineering at Penn while working with Louis J. Soslowsky, Fairhill Professor in Orthopaedic Surgery and Professor in Bioengineering, at the McKay Orthopaedic Research Laboratory. Her thesis work focused on the dynamic re-organizations of collagen during tendon loading in the rotator cuff, developing a novel AFM-based method for measuring collagen fibril sliding along the way. During her time at Penn, Connizzo also served as the Social Chair for the Graduate Association of Bioengineers (GABE) and the Graduate Student Engineering Group (GSEG), both of which play a vital role in representing graduate students across the School of Engineering and Applied Sciences. She completed her PhD in Bioengineering in 2015 and then pursued her postdoctoral studies at MIT, focusing on fluid flow during compressive loading and developing novel explant culture models to explore real-time extracellular matrix turnover. For her work she was awarded both an NIH F32 postdoctoral fellowship and the NIH K99/R00 Pathway Independence Award, which are just a few of her long list of impressive accomplishments.
Although Connizzo's interests in soft tissue mechanobiology span development, injury, and disease, her more recent work has targeted how aging influences tendon function and biology. With a fast-growing active and aging population, she believes that identifying the cause and contributors of age-related changes is critical to finding treatments and therapies that could prevent tendon disease, and thus improve overall population healthspan and quality of life. The primary objectives of the Connizzo Lab at Boston University will be to harness novel in vitro and in vivo models to study cell-controlled extracellular matrix remodeling and tissue biomechanics and to better understand normal tendon maintenance and the initiation of tendon damage in the context of aging.
"I am so grateful to have had the guidance of my mentors and peers at Penn during my doctoral studies, and even more thankful that many of those relationships remain a significant part of my support system to this day," Connizzo says. "I'm really looking forward to this next chapter — to all the successes and failures in pursuing the science, to building a community at BU and in my own laboratory, and to supporting the next generation of brilliant young scientists."
Congratulations Dr. Connizzo from everyone at Penn Bioengineering!