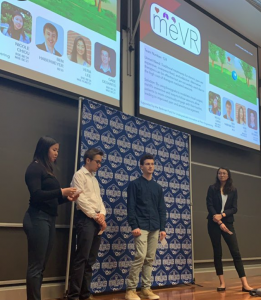 We would like to congratulate Penn Bioengineering Senior Design team MeVR on winning a Berkman Prize. MeVR consists of current BE seniors Nicole Chiou, Gabriel DeSantis, Ben Habermeyer, and Vera Lee. Awarded by the Penn Engineering Entrepreneurship Program, the Berkman Opportunity Fund provides grants to support students with innovative ideas that might turn into products and companies.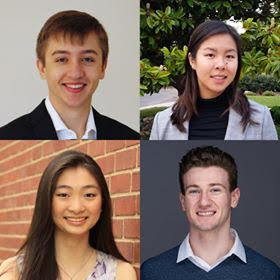 MeVR is a bioresponsive virtual reality platform for administering biofeedback therapy. Biofeedback is the process of gaining greater awareness of involuntary physiological functions using sensors that provide information on the activity of those bodily systems, with the goal of gaining voluntary control over functions such as heart rate, muscle tension, and pain perception. This therapy is used to treat a variety of conditions such as chronic pain, stress, anxiety, and PTSD. These treatments cost on the order of hundreds to thousands of dollars, require the presence of a therapist to set up and deliver the therapy session, and are generally not interactive or immersive. MeVR is a platform to reduce these limitations of biofeedback therapy through an individualized, immersive, and portable device which guides users through biofeedback therapy using wearable sensors and a virtual reality environment which responds in real-time to biological feedback from the user's body.
As part of the two-semester Senior Design course (BE 495 & BE 496), MeVR and the rest of the Bioengineering B.S.E. seniors will continue to develop their projects throughout the remainder of the academic year in George H. Stephenson Foundation Educational Laboratory & Bio-MakerSpace, culminating in their final presentations and the annual SEAS Senior Design Project Competition at the end of the spring 2020 semester.