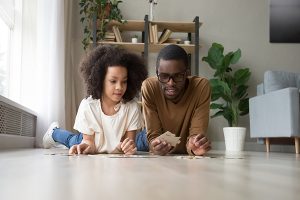 Though the coronavirus situation is changing daily, even hourly, by now the need for physical separation from those not in your household is clear. That doesn't mean it's easy, says Penn psychologist Melissa Hunt.
"We're social animals," says Hunt, associate director of clinical training in Penn's Psychology Department. "We have an entire neuroendocrine system that responds to touch and social proximity with people we care about, that contributes to our sense of well-being and connection in the world. Losing out on that is really hard."
It's also not something we've really been asked to do before, says Lyle Ungar, a Penn computer scientist who is part of the World Well-Being Project, an initiative that uses social media language to measure psychological well-being and physical health. "This is an experiment on a scale that we've never seen in the United States," he says.
Ungar and Hunt offer some suggestions to stay positive and healthy in the face of this new social isolation.
1. Maintain a connection with the people you love, even if it can't be a physical one. 
"Social distance does not mean no social contact," Ungar says. Psychologically, face-to-face conversations are best, but right now they're not likely possible. Instead, Ungar suggests video calls. "They're second best in terms of emotional bonding," he says. "Phone calls aren't as good as video chats, and texting is even worse. But of course, being totally isolated is the worst."
Read the full five tips at Penn Today. Media contact Michele W. Berger.
Melissa G. Hunt is the associate director of clinical training in the Department of Psychology in the School of Arts and Sciences at the University of Pennsylvania. 
Lyle Ungar is a professor in the departments of Bioengineering and Computer and Information Science in the School of Engineering and Applied Science, in the Graduate Group in Genomics and Computational Biology in the Perelman School of Medicine, in the Department of Operations, Information, and Decisions in the Wharton School, and in the Department of Psychology in the School of Arts and Sciences.