Hear Ye, Hear Ye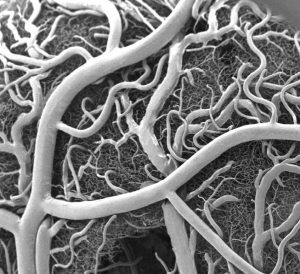 Last week, we reported on researchers at Purdue University studying how the brain processes visual data. A recent report from biomedical engineers at Washington University-St. Louis studies another intriguing aspect of brain function: how we detect and interpret sound. The popular perception is that that neurons in the brain's auditory cortex first identify that a sound is present (introductory reaction) and then determine the sound content (secondary reaction). Dennis Barbour, MD, Ph.D., associate professor of biomedical engineering at WashU and lead author on this study, tested whether the accuracy of the information encoded during the first process was less accurate than that recorded during the second process. While animals were exposed to auditory stimuli, the activity of neurons in their auditory cortices was measured and recorded using event-related potentials and functional MRI.
Dr. Barbour refuted the popular assumption of less accuracy earlier in sound processing. The group's data showed that neurons were equally accurate in communicating sound information regardless of whether it was an introductory or secondary reaction. Therefore, it is likely that these two reactions serve a different purpose than initially suspected. Whether this model of neuron reaction to stimuli pertains to the other sensory organs remains to be seen.
Stem Cells Regenerate Damaged Arteries
Peripheral artery disease (PAD) is one complication of diabetes, characterized by a narrowing of blood vessels in the peripheral circulation. PAD can lead to poor oxygenation of tissue in the limbs, and in the most severe cases, it can lead to limb amputation. Therefore, there is a great unmet clinical need to reverse the poor circulation caused in PAD. In a recent issue of Theranostics, mesenchymal stem cells (MSCs) were used to regrow blood vessels damaged by PAD. Led by Wawrzyniec Lawrence Dobrucki, Ph.D., professor of bioengineering and of medicine and head of the Experimental Molecular Imaging Laboratory at the Beckman Institute for Advanced Science and Technology at the University of Illinois, Urbana-Champaign, this report showed the development of new blood vessels (angiogenesis) could be accelerated by injecting MSCs into mice following limb ischemia. The authors found that angiogenesis was 80% greater than the angiogenesis in untreated animals. These changes in the blood vessel network were also matched with functional improvement, as blood perfusion increased by 42% and muscle strength by 70% in animals treated with MSCs.
The study provides additional evidence for the multiple medical applications of stem cells. Dr. Dobrucki believes the technology tested in this study could eventually be applied not only to regenerate damaged vascular tissue but also to diagnose diseases like PAD.
Saliva Test for Lupus
Blood testing provides a simple and effective way to diagnose many diseases. But what can healthcare professionals do if obtaining a blood sample isn't possible? Children and patients who fear needles pose the biggest problems here, but collecting blood can also be difficult for patients in remote areas. To both reduce the discomfort and increase patient accessibility to diagnostic tests, there is a great interest in replacing blood-based diagnostic tests with tests using other fluids like saliva and urine.  Using a grant from the National Institutes of Health,  Chandra Mohan, Ph.D., Hugh Roy and Lillie Cranz Cullen Endowed Professor of biomedical engineering at the University of Houston, intends to address this issue by developing a saliva-based test for lupus, an autoimmune disorder that affects approximately 1.5 million Americans. Based on the discovery that anti-double stranded DNA antibodies appear in the blood and saliva of lupus patients, Dr. Mohan will develop and then test the new diagnostic method to evaluate the potential of replacing blood-based detection with saliva samples.
Engineering Better Plastics
Along with concerns about climate change, environmental concerns regarding pollution have been an emphasis of scientists and activists for decades. Garbage poses a particular problem because most of the plastic in garbage is not biodegradable.
In response to this environmental concern, a team of engineering students at the University of Iowa have used genetic engineering to develop sensors for biodegradable plastics. Bacteria already produce a biodegradable plastic – 3-hydroxypropionate (3HP) – that could be a replacement for the non-degradable plastics that are used in the market today. However, manufacturing 3HP is more expensive, and new production methods would be more efficient if there were a sensor available to determine 3HP amounts during the manufacturing process. The Iowa team engineered bacteria that emit light based on the 3HP present in the microenvironment. By monitoring the emitted light during the manufacture of 3HP, we could control and optimize the production of 3HP and eventually make it an affordable alternative to non-degradable plastics. The team presented its research last week at the Giant Jamboree sponsored by the International Genetically Engineered Machine Foundation in Boston.
People and Places
The University of California, Santa Barbara, opened its new bioengineering building recently. The building will house at least a dozen faculty and their research groups and both the Center for Bioengineering and the Institute for Collaborative Biotechnologies. At the University of Southern California, officials announced the creation of a new center: the USC Michelson Center for Convergent Bioscience, designed to take advantage of collaborative research teams to tackle major health problems, including cancer, infection and drug development. The center will be run by chemistry faculty member Valery Fokin and by Peter Kuhn, Ph.D., Professor of Aerospace and Mechanical Engineering & Biomedical Engineering at USC. Finally, last week, Tulane University's Department of Biomedical Engineering celebrated its 40th anniversary. Happy anniversary, Tulane!